HPE ProLiant DL380 Gen10 review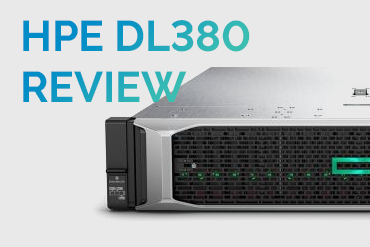 HPE's ProLiant DL380 has consistently been at the top of the best seller list - and with good reason, as this is its most capable rack server. There's little it can't turn its hand to and we exclusively bring you the first hands-on review of HPE's new Gen10 flagship.
HPE's flagship 2U rack server gets a massive Gen10 makeover and showcases Intel's Xeon Scalable CPUs
PROS

Great value; Xeon Scalable CPUs; Highly expandable; Extensive storage options; Quality iLO 5 management; Strong platform security

VERDICT

Probably the most versatile 2U rack server on the planet, the DL380 Gen10 delivers a superb range of new features including big storage choices, slick iLO 5 management and tough security measures
HPE's ProLiant DL380 has consistently been at the top of the best seller list - and with good reason, as this is its most capable rack server. There's little it can't turn its hand to and we exclusively bring you the first hands-on review of HPE's new Gen10 flagship.
There's plenty to get excited about as along with support for Intel's Xeon Scalable CPU family, the DL380 Gen10 receives a complete refresh in the storage department with a new modular design. HPE's Smart Array RAID controllers have also been uprated to offer more storage and interface choices.
The server supports 3TB of DDR4 SmartMemory and can handle up to 192GB of HPE's Persistent Memory NVDIMMs. These target high-demand apps such as analytics or databases and provide 8GB of high-performance DRAM, backed up by 8GB of flash mounted on a standard form factor DIMM module.
And then there's HPE's new iLO 5 management controller. It offers a heap of new features as along with improved server monitoring, it has a laser-sharp focus on platform security with silicon fingerprinting, encryption and breach detection technology.
Storage
On review is the Performance model 826556-B21 which sports a pair of 12-core 2.3GHz Intel Xeon Gold 5118 CPUs teamed up with 64GB of DDR4. A quick glance at the front shows HPE has retained the 8+8+8 drive bay configuration layout, allowing up to 24 SFF drives to be presented.
You can fit HPE's universal media unit in the left bay, which provides dual USB3, a DisplayPort plus optical drive and room for two SFF drives beneath. There's more going on at the back: three dual SFF hot-swap cages can be added, taking the tally to thirty drives.
The SFF chassis also supports up to 20 NVMe drives. If capacity is a key requirement, it'll take twelve LFF drives at the front, three at the back and even four in the middle with HPE's custom mid-plane kit.
All models start with HPE's embedded Smart Array S100i chip, which supports RAID 0, 1, 5, and 10 for up to 14 SATA drives. Our server has the Smart Array P408i-a snap-in module which adds SAS3 plus 2GB of flash-protected cache to the storage equation and HPE offers other models with differing cache quantities and external expansion ports.
Management and security
The iLO 5 uses a new ASIC and its Secure Start swings into action when the server is powered on. It validates its firmware using HPE's Silicon Root of Trust fingerprinting and if it fails this, it'll stop the server booting. Next up is Secure Recovery which validates the iLO firmware and if the test fails, automatically flashes it with the resident recovery image.
Included in the iLO 5 Standard license is active system ROM validation and if this fails, it'll activate the redundant system ROM. Should both ROMs fail validation, the Advanced Premium Security Edition license can run a firmware scan and repair process and will also run daily system firmware validations.
The iLO 5 is twice as fast as iLO 4 with double the memory and we found its Intelligent Provisioning OS deployment tools and virtual media services much quicker and more responsive. The iLO 5 web interface gets a major revamp making it even more informative and HPE has switched entirely to its agentless management service (AMS), negating the need to load any OS agents.
Existing users of HPE's OneView must upgrade to v3.1 to support Gen10 hardware and patience is required, as we found this takes around two hours. With this applied, we added the server's iLO 5 credentials to the lab's OneView Hyper-V VM and kept an eye on CPU and power usage plus temperatures, ran remote control sessions and powered the server up and down.
Power and networking
There's room to grow, as our model includes both 3-slot PCI-Express riser cards with space for a 2-slot tertiary riser over the PSU bay. HPE's tool free design comes into play as the two main risers can be easily removed with just a flick of the wrist.
All models come with quad embedded Gigabit ports and you can upgrade with a choice selection of FlexibleLOM mezzanine cards. The server supports one card which fits in a dedicated slot at the rear of the motherboard and HPE offers dual and quad-port fibre or copper 10GbE plus a dual-port 10/25/40GbE card.
Our system includes a pair of 800W hot-plug PSUs and HPE offers 500W and 1600W versions, but not the Flex Slot Battery Backup Module from the Gen9 servers. For a 48 virtual core server, power consumption is commendably low with it drawing 81W in idle and peaking at 272W with both CPUs under extreme load.
Conclusion
HPE's DL380 just keeps getting better with every generation and the latest Gen10 delivers new and welcome features in abundance. This highly expandable 2U rack server offers a wealth of storage choices and the new iLO 5 controller provides top-notch remote management and platform security. Enterprises and SMBs looking for a powerful and secure 2U rack server that can grow with them will find the ProLiant DL380 Gen10 an ideal partner.
Source: ITPRO
We can't find products matching the selection.