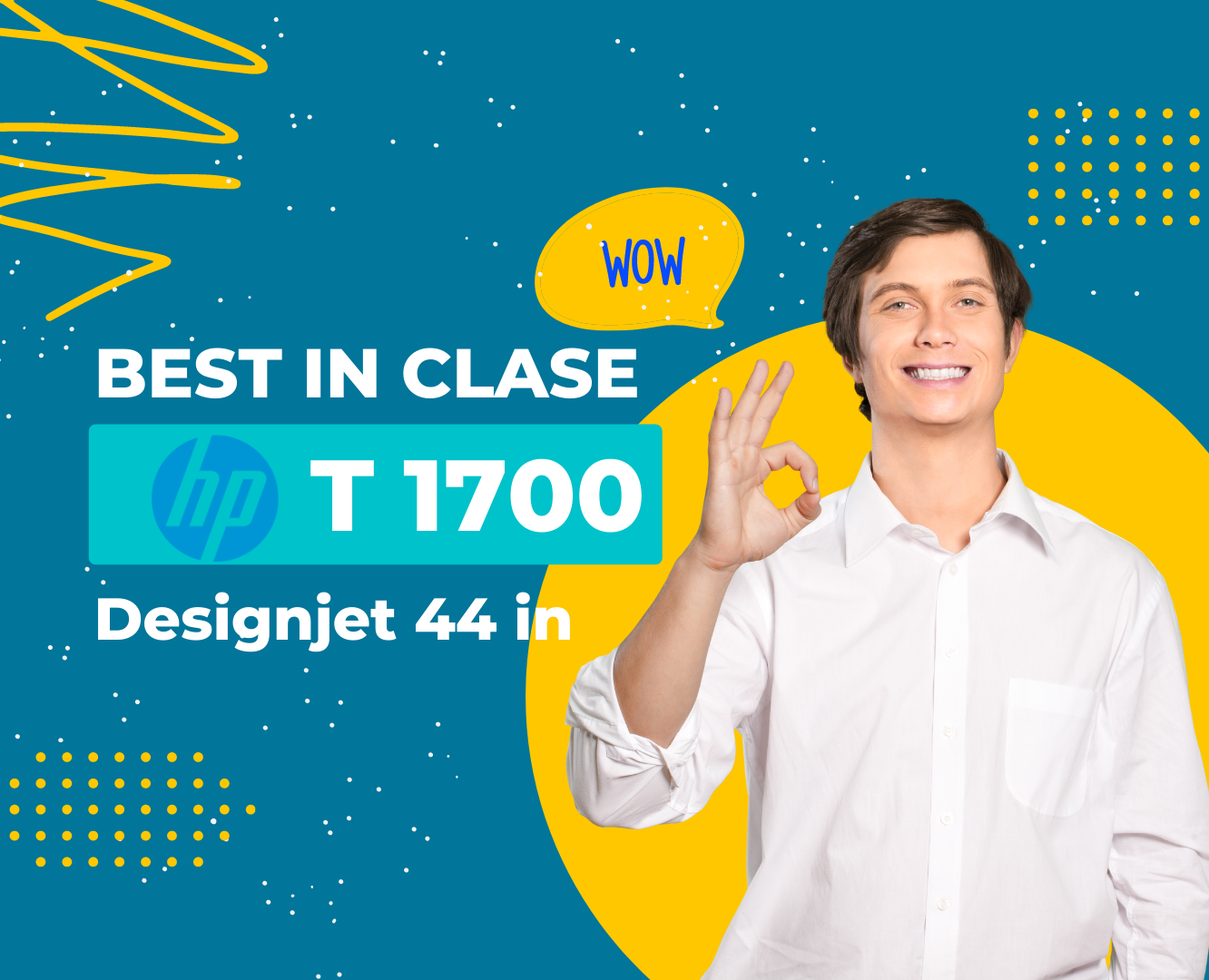 HP Designjet T1700 Printer series
Efficiently, Securely, and Accuracy all produce quality CAD and GIS applications for up to 44 inches.

FUTURE—Protect your work and your information

HP Secure Boot, whitelisting, and encrypted hard drives are used to prevent illegal access to printers and data.
Protect papers and maintain secrecy using authentication tools like card readers and PIN printing.
Manage your fleet remotely with HP Web Jetadmin while keeping your printers secure with HP JetAdvantage Security Manager.
Printing costs with accounting, Accounting software, or your reseller through HP Partner Link can help you manage and reduce printing expenditures.

EFFICIENT—No more PC freezing up

Even for the most complex files, Adobe PDF drivers rapidly free up your machine for printing.
With dual-roll choices, roll changes are fewer and the capacity of the two rolls doubles, making it easier to swap paper kinds.
Handle complex files with a robust processor architecture; memory size is 128 GB, hard drive 500 GB hard drive at 116 A1/D pages per hour.
With HP Click printing software, project sets and PDF files can be printed without difficulty.
ACCURATE—Use precise colours to make better selections.

With HP Bright Office Inks, you can get vivid colour and bold image quality—even on simple materials.
Transparencies, layers, colour schemes, and gradients can all be reproduced using the inbuilt Adobe PDF Print Engine.
2 Color/grey/photo black inks produce soft hues and dark tones; tuned profiles reproduce diverse shades of colour.
Display data accurately thanks to high-density printheads' 2400 nozzles per inch and 0.1% line accuracy.
The top FAQ's

Why is hp T1700 the Best in class?
large format printers to print hp pagewide 44 inch
easily print project sets and pdf documents
products to compare
Ability to do photo paper printng
instant ink
costs with accounting solutions
whitelisting encrypted hard disk
Which Large format printers Consider hp T1700 the best alternative?
WT44-600-MFP-H
WT36CL-600-MF3
WT36CL-600-MFP
WT48CL-600-MFP
WT36-600-MFP
WT44-600-MFP
WT48-600-MFP
WT36CL-600-MFP-H
WT48CL-600-MFP-H
WT36-600-MFP-H
WT48-600-MFP-H
What are the hp Designjet T1700 printer features?
Line drawings: 26 sec/page on A1/D, 116 A1/D prints per hour
Dye-based; 6 ink system
Media handling: Sheet feed, roll feed, automatic cutter
Compliant with Class B requirements, including USA (FCC rules)
Dynamic security enabled printer
What are the types of hp Designjet T1700 Printers:
HP DesignJet T1700 Printer
HP DesignJet T1700 Postscript® Printer
HP DesignJet T1700 dr Printer
Watch the hp Designjet T1700 Video